Sous Vide Venison Backstrap with Gremolata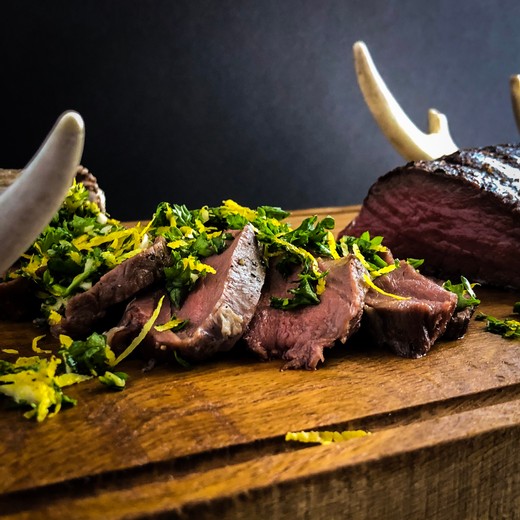 Recipe Date:
March 10, 2019
Measurements:
Imperial (US)
Venison has little or no fat content so can be very easy to overcook using traditional methods. The game changer in cooking wild game (or any meat) comes in the sous vide method where the meat is sealed in an air tight bag and submersed in a controlled water bath. Since the water is set to the desired final cook temperature of the meat the window for perfection is hours instead of minutes or seconds. Making cooking meat seem so easy it almost feels like cheating. We use Anova Precision Cooker for our Sous Vide cooking but there are many options on the market. Gremolata - A wonderfully simple garnish we picked up from Steven Rinella's cook book 'Hunting, Butchering, and Cooking Wild Game'. This adds the perfect amount of zest to take an already amazing dish to the next level.
Ingredients
2 lbs Whole Venison Backstrap Silver Skin Removed
Grated Zest of 2 Lemons
2 Peeled Garlic Cloves Diced
1/3 cup Diced Fresh Parsley
2 tsps Sea Salt
1/4 tsp Fresh Ground Pepper
1 tbsp Extra Virgin Olive Oil
Directions
Venison Backstrap (or Beef Tenderloin)
Cut whole backstrap into 6 - 8 inch long pieces, remove silverskin and pat dry and add salt and pepper to both sides to taste. Place backstrap pieces into a ziplock bag and submerse in water without sealing the bag until all the air has gone out. Place the bag in a hot water bath of 117 degrees for medium rare or 130 for medium for a minimum of 2 but up to 6 hours.
Remove bag from waterbath remove backstap from bag and pat dry. Grille or sear on stovetop for 1-2 minutes per side just enought to char outside of meat. Remove from heat and allow to completely cool. 20 -30 minutes. After cooled slice into thin pieces drizzle olive oil and garnish with Gremolata.
Gremolata -
Grate the zest of 2 lemons and 2 peeled cloves of garlic. Combine in a bowl with 1/3 cup of finely chopped flat-leaf parsley. Add 2 teaspoons sea salt and freshly ground black pepper and toss together.