Smoked Turkey Breast & Cranberry Sauce Pizza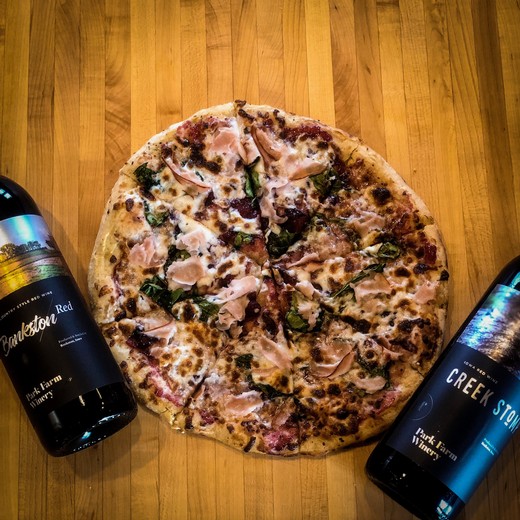 Recipe Date:
November 1, 2018
Measurements:
Imperial (US)
Inspired by the Classic Movie 'White Christmas' where Wallace explains to Betty that a 'turkey sandwich makes him dream of a brunette'. We created this pizza to pair with a few of our reds (we don't have brown wine) Creek Stomp and Bankston Red. Featured in our 2018 Fall wine trail event.
Ingredients
1 Your favorite pizza crust
4 tbsps Canned whole cranberries
4 ozs Sliced smoked turkey breast
3/4 cup Baby Spinach
2 1/2 ozs Provolone cheese
Directions
Preheat oven or grill with pizza stone to 450 degrees.
Top your favorite pizza crust with canned whole cranberries sauce with a thin layer, add baby spinach then lightly sprinkly with 1/2 cheese. Chop smoked turky breast into small pieces and top over cheese then add remaining cheese. Place in oven or grill directly on heated pizza stone and cook for 10-15 minutes or until cheese starts to brown.