Prosciutto, Baby Arugula & Asiago on Rye Pizza Crust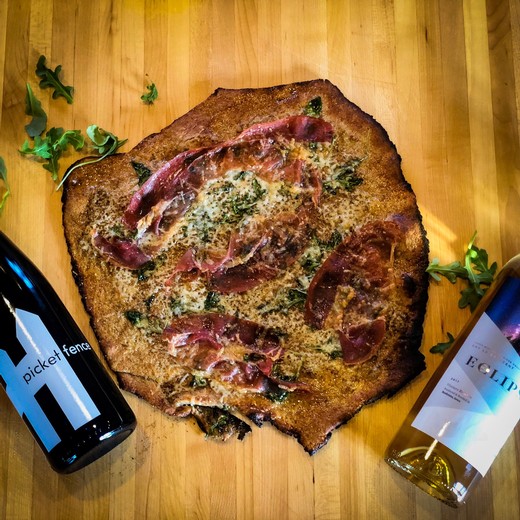 Recipe Date:
October 29, 2018
Measurements:
Imperial (US)
Inspired by the Classic Movie 'White Christmas' where Wallace explains to Betty that a 'ham and cheese on rye makes him dream of a tall blond'. We created this pizza to pair with a few of our 'tall blonds' Picket Fence and Eclipse. Featured in our 2018 Fall wine trail event.
Ingredients
1 oz yeast - dough
1 1/4 cups lukewarm water - dough
3 cups rye flour - dough
1 cup ltalian tipo 00 or all purpose flour - dough
1 tsp salt - dough
1 1/2 tbsps Dijon Mustard - sauce
1 tbsp olive oil - sauce
2 ozs Prosciutto - topping
1 oz Baby Arugula - topping
1/3 cup Asiago Cheese - topping
Directions
Pizza Dough
Note - Makes enough dough for 4 pizzas. Topping measurements are per pizza.
Dissolve the yeast in 1/4 cup of the water, then add to a bowl containing a mixture of 2 tbsp rye flour and 1 tbsp 00 flour. Stir to a paste, then let rest covered with a towel for 30 min. After 30 minutes, stir in the remaining water, flour and salt. Mix into dough, then knead well until smooth, cover and rest in warm space for 2 hours or until dough has doubled in size. Next divide dough into 4 pieces. Roll out crust to 1/8 to 1/4 inch thick on floured sheet.
While crust is rising preheat oven or grill to 450 degrees with baking stone.
Pizza Prep
Mix olive oil and Dijon Mustard for sauce base, once crust is rolled out paint crust with sauce, then top with baby arugula, cheese and proscutto and top with some additional cheese. Slide pizza onto heated stone and let cook 10 - 12 minutes.
Cut to party squares and serve..