Pecan Crusted Halibut With Sauteed Apples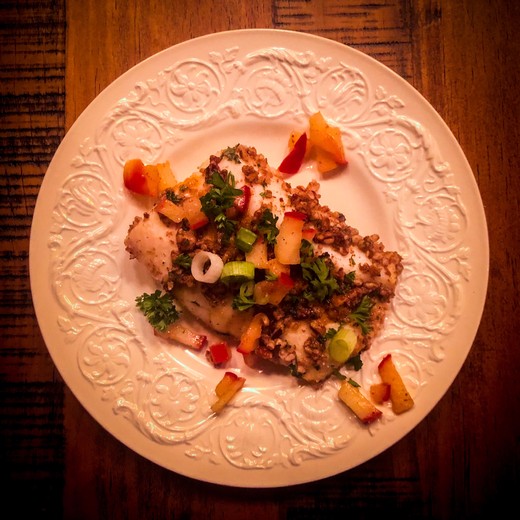 Recipe Date:
February 23, 2019
Measurements:
Imperial (US)
Halibut is a super clean meaty fish that can be difficult to master because it's low fat content leaves little room for error on cooking time. This recipe gives a lot of flavor and texture and when done right takes halibut to the next level. When cooking halibut error on the side of caution and don't over cook, take it out a little early and check for doneness. We get our halibut from Sitka Salmon Shares, a great source of sustainability harvested wild caught seafood for the Midwest.
Ingredients
4 halibut fillets (8 oz each) skin and pin bones removed
1 1/2 cups pecans finely chopped (or almonds, walnuts or hazelnuts)
2 tbsps minced fresh parsley, plus more for garnish
4 tbsps unsalted melted butter
2 tbsps orange juice
1 tsp grated orange zest
1 tsp Dijon mustard
1 tsp salt
1/4 tsp cayenne pepper
SAUTEED APPLES
2 tbsps apple juice
1 tsp Dijon mustard
1 tsp Sugar
Salt (to taste)
1 tbsp unsalted butter
1 Honey Crisp Apple, Cored and cut into 1/4' dice
2 tbsps thinly sliced green onion, white and light green parts only
1 tbsp minced fresh parsley
Directions
Preheat oven to 425 F.
Lightly oil a baking sheet. Put nuts and parsley in a food processor and pulse to finely and evenly chop. (avoid overworking mixture to form a paste). Spread the mixture in a large shallow dish.
Stir together the melted butter, orange juice and zest, mustard, salt and cayenne in a shallow dish. Coat both sides of each halibut fillet in melted butter mixture. Press both sides of the fillets into the nut mixturem patting gently to remove excess. Set the halibut on the prepared baking sheet and bake until the fish is just opaque through, about 8-12 min depending on thickness. (10 min for 1")
Meanwhile, prepare the sauteed apple garnish. Whisk together the apple juice, mustard, and sugar in a small bowl and season to taste with salt. Melt the butter in a small skillet over medium heat. Add the diced apple and apple juice mixture and cook, stirring occasionally, until the apple is just soft, about 4 minutues. Stir in the green onion and parsley.
Spoon the sauteed apples over the cooked halibut pieces and garnish with parsely.