Lemon Rosemary Chicken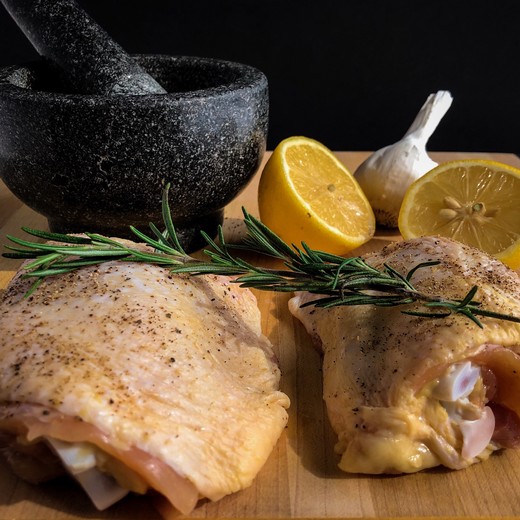 Recipe Date:
July 17, 2018
Measurements:
Imperial (US)
This recipe has become a family favorite in our winemaker's home. Served almost weekly using chicken thighs from O'Connell Organic Acres. There is a lot of room for adjusting to your own taste, we almost never measure ingredients and will occasionally add some fresh thyme to change it up. Following is a good starting point but don't be afraid to make this your own.
Ingredients
6 chicken pieces
1 Zest of Lemon
1 Juice of Lemon
2 Garlic cloves finely minced
1 tbsp Fresh Rosemary finely minced
2 tsps Sea Salt
1 tsp Black Pepper
3 tbsps Butter or Olive Oil
Directions
Combine all ingredients minus chicken in a bowl and mix to make marinade. Drench chicken pieces in marinade and place in cooking dish pour extra marinade over chicken and cover to refrigerate for at least 2 hours. Alternatively mix and marinade in a ziplock bag.
Bake in oven or grill indirect heat at 425 for 50 minutes or until skin is crispy and internal temp reaches 160 degrees.
Let rest for 5 minute then serve.
Watch the recipe video
Check out O'Connell Organic Acres for premium organic meat including the chicken used in this recipe: