Dark Chocolate Red Wine Fudge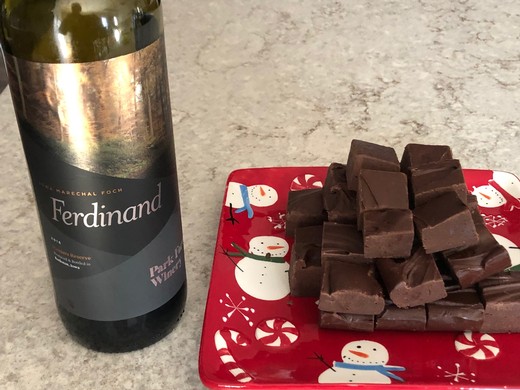 Recipe Date:
December 11, 2018
Measurements:
Imperial (US)
This dark chocolate fudge made with our Ferdinand wine is rich and creamy with a hint of pepper. Enjoy it with a glass of Ferdinand.
Ingredients
14 ozs can sweetened condensed milk
1 lb dark chocolate chips
2 tbsps dry or off-dry red wine (we used our Ferdinand)
2 tsps vanilla extract
3/8 tsp cayenne pepper
1/4 tsp cinnamon
1/4 tsp salt
Directions
Line a 9 x 9 x 2 inch pan with waxed paper, then spray paper lightly with nonstick cooking spray.
Put all ingredients in a medium mixing bowl. Microwave on High 1 minute, stir well, then microwave another 30 seconds. Stir a lot. If all the chocolate is melted and the mixture is the consistency of a very thick, shiny cake batter, it's ready. If not, microwave another 30 seconds and stir again.
Pour the fudge into the prepared pan and use a spatula to smooth it out. Set in the refrigerator or other cool place to chill.
Once the fudge is completely cool and hardened, cut into squares using a knife that has been warmed under hot water. Warm the knife again between cuts.