Calligraphy Class- Bankston Red & Brush
| | |
| --- | --- |
| Date: | Thu, Apr 18, 2019 |
| Time | 6:00 PM to 8:00 PM |
| Venue: | Park Farm Winery |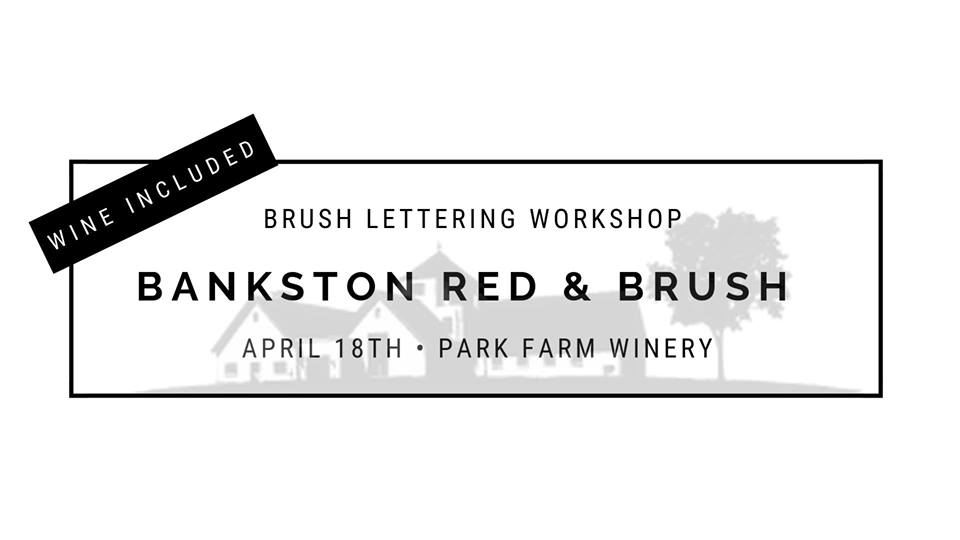 Enjoy some wine with friends while learning brush lettering!

This workshop will be all about relaxing on a Thursday evening at a unique local winery with a classy drink, enjoying good company, and learning a new skill! In this beginner's workshop you will learn all the basics of brush pen lettering. You will learn the a, b, c's (literally) of calligraphy as we discuss how to hold your pen, correct technique, practice on provided alphabet pages, and develop skills that will help you with faux calligraphy as well! You will practice brush lettering with a dual brush pen and learn how to achieve the perfect faux calligraphy look using a special lettering workbook created by the instructor. Plus, at the end of the night, everything is yours to keep. Class will start promptly at 6PM and will include wine (at no extra charge).

Workshop will include:
• 2 hours of lettering instruction and practice
• Park Farm Wine
• Tombow Dual Brush Calligraphy Pen
• Instructional Alphabet Sheet
• Practice Sheets
• Personalized Lettering Journal
• Take-Home Project

Other Perks:
• Surrounded by lovely individuals
• 25% off custom orders by Ana if ordered the day of the event

About the Instructor:
Ana Walker is a letterer in Dubuque and the owner of Lovely Little Light Signs and Designs (www.lovelylittlelight.com) who has been creating custom hand-lettered pieces for the home, weddings, and events for the last 4 years. She is self-taught and specializes in larger scale pieces. Ana is excited to share her love of lettering, and all the tips and tricks she has learned, with others!